The New Blue Association
This is the fund-raising arm of our fraternity and it is ably chaired by our Right Worshipful Deputy Grand Master, Bro Hedy Babani, with Very Worshipful Bro Marilyn Podro as Vice-Chair and their enthusiastic team of helpers.
In the past they have successfully raised many thousands of pounds towards the purchase of our new HQ and also made substantial donations to our HFAF Charity, our Building Fund, our Benevolent Fund and Past Grand Lodge Officers Association.
Their fund-raising work continues without cease and their efforts enable our Charity to donate so generously.
2019
A lot of money has been raised over the years for University College Hospital and it was nice to have this certificate in recognition. This money was used to buy Cancer Therapy Chairs, a Bladder Scanner, a Combifix Kit   ( for pelvic immobilisation) and Cold Caps.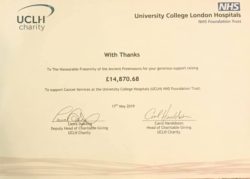 Update on Tyler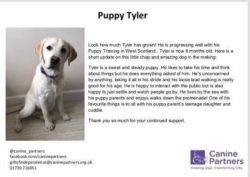 2018
Update – as we were unable to purchase a second puppy for MDD, due to the immense popularity of this cause and the lack of suitable puppies available, we will now look at other charities which provide assistance dogs.
October –  We have now made a donation to Canine Partners which will enable the purchase and basic training of a  puppy who will be known as Tyler.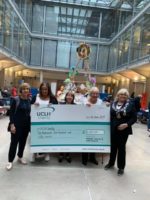 This donation was for Cold Caps, pictured here are the Chair and Committee of the New Blue Association and the President of our Charity
2017
Earlier this year, one of our more intrepid members Vicky from Fortitude No. 6 undertook a skydive to raise funds for the training of a second Medical Assistance/Detection dog.With the support of friends and HFAF members she raised £2180.  The puppy to be known as Tyler will hopefully be present at our Winter Fayre this year.
2016
Thanks to the efforts of our members and donations from well-wishers we were able to fund the training of a Medical Assistance Dog. Mason visited our annual Winter Fayre much to the delight of the members.